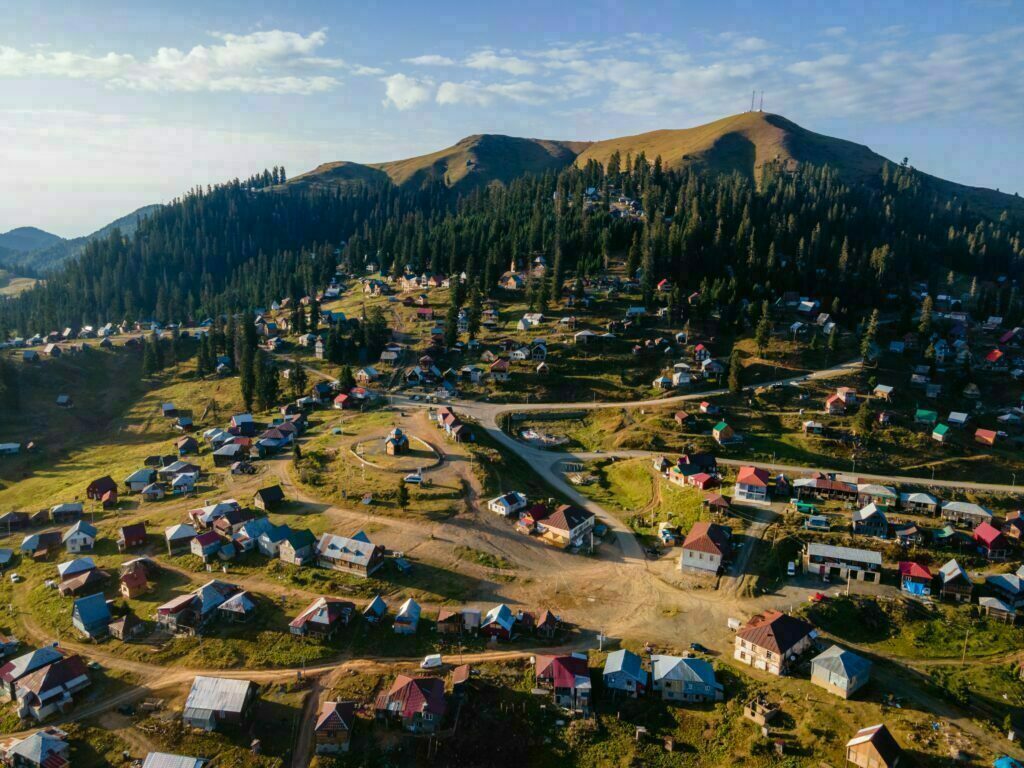 Bakhmaro is a picturesque mountain resort located in the Guria region of Georgia, on the slopes of the Meskheti Range, part of the Lesser Caucasus.
This charming village is situated 2,000 meters above sea level and is surrounded by lush fir forests, breathtaking mountain ranges, and crystal-clear rivers. Bakhmaro is a hidden gem in Georgia and an ideal destination for those looking for a peaceful and tranquil escape from the hustle and bustle of the city.
Bakhmaro's importance as a tourist destination cannot be overstated. Its natural beauty, fresh air, and unique climate have made it a favorite vacation spot for both locals and tourists.
The town is famous for its healing features due to its clean air, with many people even going to the resort village with the main purpose of testing these miraculous properties.
In addition, visitors are met with a range of outdoor activities, including hiking, skiing, and horseback riding. With its scenic beauty and outdoor adventures, Bakhmaro is a must-visit destination for anyone traveling to Georgia.
Table of Contents
Why You Should Visit Bakhmaro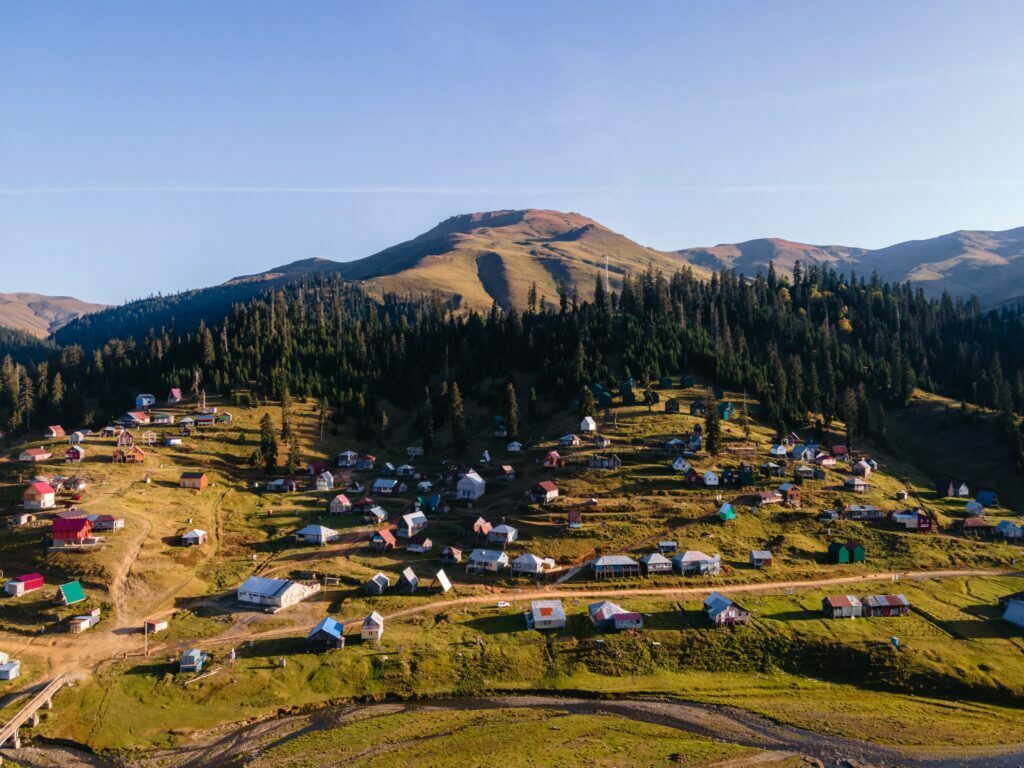 Bakhmaro is a natural paradise with a wealth of attractions and activities for all types of travelers.
The village is known for its natural beauty and healing features. Its astonishing position in a valley surrounded by the fir-covered mountains of the Lesser Caucasus, from the top of which is possible to see the Black Sea, gives it a unique edge over most other mountain resorts.
In addition, Bakhmaro's air is famous for its therapeutic properties, making it an ideal place to relax and rejuvenate.
The Gurian mountain resort doesn't only have beauty on its side, as it also offers visitors a wide range of activities to enjoy.
From hiking and camping to skiing and horseback riding, there is something for everyone.
One of the most popular activities in Bakhmaro is visiting Chadrekili mountain (2250m), also known as the "sunset mountain", which provides visitors with the unique experience of seeing the sun slowly dip into the Black Sea as it sets. Not to be forgotten is the counterpart of Chadrekili, which is Gadrekili (2505m), the "sunrise mountain".
Seeing the Meskheti range's peaks light up with the first sunrays in the morning is a magical experience.
Summer is Bakhmaro's main season, as the town's mild climate and scenic beauty make it an ideal place for hiking, camping, and other outdoor activities. Visitors can explore the area's stunning forests, hike to breathtaking waterfalls, and enjoy the fresh air and natural beauty of the area.
If you're an enjoyer of outdoor winter activities, look no further than Bakhmaro. Despite it being a predominantly summer destination for both locals and tourists, it also has a great reputation as a skiing resort.
During the winter great amounts of snow fall, and most of the few tourist facilities get closed, but the valley that surrounds the village becomes the perfect skiing and snowboarding scenery, with slopes for every kind of difficulty.
Whether you are looking for a winter ski vacation or a summer escape, Bakhmaro has something for everyone.
How to Get to Bakhmaro
Getting to Bakhmaro is relatively easy, but it is quite remote, so there are a lot less options compared to other mountainous areas of Georgia.
Getting to Bakhmaro by car
Equally as for any other spot in Guria, the easiest way to get to Bakhmaro is by car.
Visitors can rent a car in Tbilisi (6 hours), Kutaisi (3 hours), or Batumi (3.5 hours) and drive to the village via a steep and twisting road starting from Chokhatauri, which is located on the main highway between Tbilisi and Batumi.
Slowly but surely, it can be reached with any kind of vehicle. A 4×4 is not necessary, as the road is completely asphalted.
The road is narrow and steep in some places, but it offers stunning views of the surrounding mountains and forests.
Getting to Bakhmaro via public transportation
In the summer there are marshrutkas (minivans) that travel from Ozurgeti and Chokhatauri to Bakhmaro, both leaving from their main stations. In order to get to these two important Gurian towns, there are often marshrutkas from Kutaisi and Batumi.
Another method to get there with more time control is by taking a taxi, preferably by arranging it beforehand. Most taxis in Georgia are shared, so with the right skills and some luck you might be able to find someone to share the ride with.
Taxis are definitely more expensive than marshrutkas, but the time management factor and the possibility of sharing the costs make them a perfectly viable way to get to Bakhmaro.
Airports and Train Stations
The nearest airport to Bakhmaro is Kutaisi's David the Builder International Airport, which is located around 90 kilometers away. From the airport, visitors can take a taxi to one of Guria's main towns or rent a car to reach Bakhmaro. The nearest train station is in Ozurgeti, which is around 60 kilometers away. Visitors can take a taxi or marshrutka from the train station to reach Bakhmaro.
Things to Do in Bakhmaro
Bakhmaro is a popular destination for outdoor enthusiasts, offering a range of activities for visitors to enjoy, highly varying depending on the season.
Summer in Bakhmaro
The picturesque cabins that compose Bakhmaro are oftentimes holiday houses owned by locals from all over Georgia.
During the summer months, these families go to Bakhmaro for long periods of time, enjoying the mild temperatures, clean air, and breathtaking landscape away from the typical Georgian daily life.
In most cases, Bakhmaro's cabins have no running water, and some of them don't have electricity, so the summer inhabitants have to come prepared. Most families do big groceries hauls before stationing there for their whole stay.
In the village, there are only one or two places to eat, one for getting basic groceries, bakeries, and tourism infrastructure is very limited, as only a handful of guesthouses and hotels are operative.
But it is possible to rent one of the cabins that constellate the beautiful valley and live your Bakhmaro vacation like a local.
The village's conditions make it a perfect destination for many outdoor activities such as hiking, camping, horseback riding, and more.
Bakhmaro is surrounded by beautiful forests and mountains, making it a perfect destination for hiking. There are several hiking trails in the area, ranging from easy walks to more challenging treks that can keep you away in the mountains for days at a time, giving you the possibility of camping in the pristine mountains of the Lesser Caucasus.
During the summer, you can expect the sunset mountain to be full of people waiting for that magical moment when the sun touches the waters of the Black Sea.
Horseback riding is a popular activity in Bakhmaro, with several horse riding tours available for visitors. The tours offer a unique way to explore the area, with experienced guides leading visitors through the beautiful forests and mountains.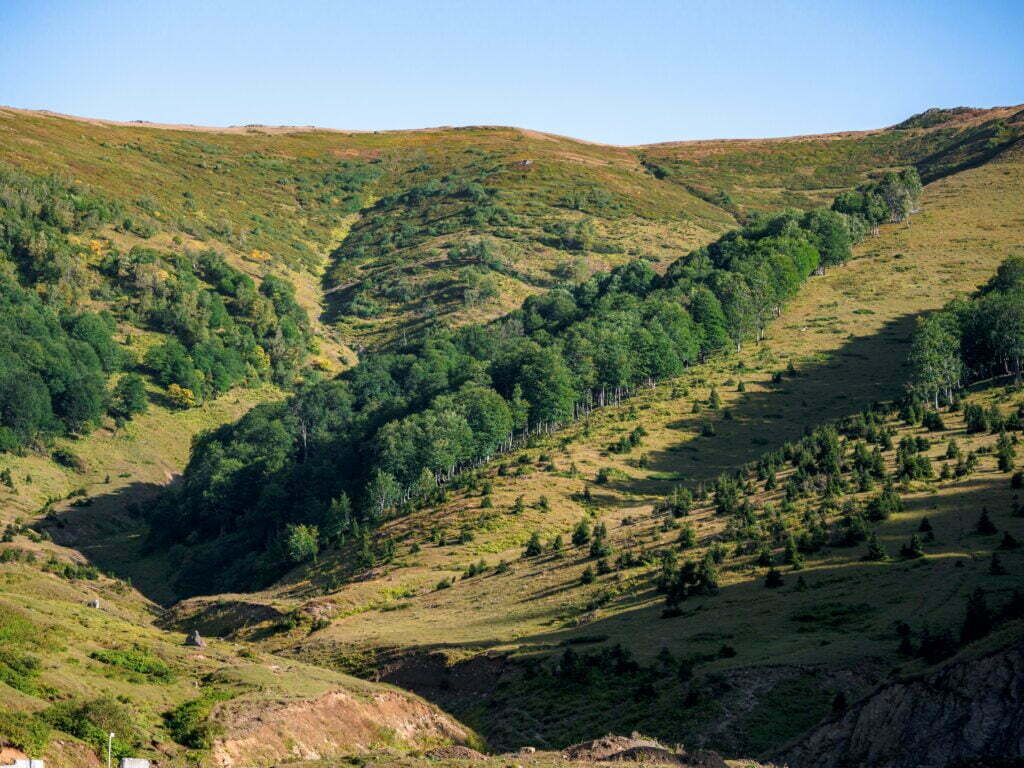 Winter in Bakhmaro
During the winter, the road to get to Bakhmaro is closed, as the village gets almost completely englobed in snow. Whatever was open in the summer season mostly closes, and in order to get to Bakhmaro to ski, visitors need to hire a guide or go with their local Georgian friend.
The handful of cabins that remain open are dedicated to the brave skiers that decide to explore the unique experience of winter in Bakhmaro. No running water and limited heating, but most of the time is spent on the slopes trying to find the perfect run, so does it really matter?
Bakhmaro is a well-known ski resort in Georgia, attracting winter sports enthusiasts from all over the country, and in recent years it has started to bring them in from all over the world.
The ski season typically runs from December to April, with the best snow conditions in January and February. The resort offers several ski runs for different skill levels.
Equipment rentals and ski lessons for beginners can be managed at both Ozurgeti and Chokhatauri.
The Bakhmaro ski resort offers more than just skiing. Visitors can enjoy snowboarding, tobogganing and sledding, and other winter sports activities.
How to get to Chadrekili (sunset mountain)
Sunset mountain is the most iconic spot in Bakhmaro due to its uniqueness, and luckily it's also one of the easiest to reach.
Simply head to the main chapel of the village. There, you'll see the signs that direct you to the trail headed to the top of the mountain.
The trail goes through the forest passing by many of the typical summer cabins, then it comes out of the trees and heads directly to the spot.
It's a steady 200 meters of elevation climb from the chapel, something that everyone that reached Bakhmaro should be able to do and shouldn't miss.
From the top, there's an uncontested view of the Black Sea and the Gurian seaside villages along the coast, as well as the rest of the region's hinterland heritage.
At sunset, the sun can be seen as it sets directly into the waters of the Black Sea, a magical event that encapsulates the Bakhmaro experience
Bakhmaros Doghvi (horse race)
Traditionally held every year on August 19th, Bakhmaro's horse race marks the beginning of the end of the village's summer season, as local families start to head back to their cities to get back to their normal lives.
The event consists of a horse race with participants coming from all over the region and the country to demonstrate their skills. The race follows a circuit that goes through the town itself, with games and celebrations leading up to and following the event.
Healing properties
Guria's climate, culture, and relative remoteness have always contributed to the creation of these stories about people getting healed from the unique properties of the territory.
Bakhmaro is known for its incredibly clean air due to its position in a valley that serves as a junction between the Black Sea and the Lesser Caucasus.
Locals have been going to Bakhmaro for more than one hundred years in order to test this out for themselves, hoping to get their respiratory ailments cured. Nobody knows for certain if the village's air is magical, but there is no doubt that that level of purity is rare nowadays.
It is canon for those "under treatment" to stay for at least three weeks, the time necessary for the air to work its magic.
I personally had nothing to fix whilst I was there, so why don't you test this out for yourself?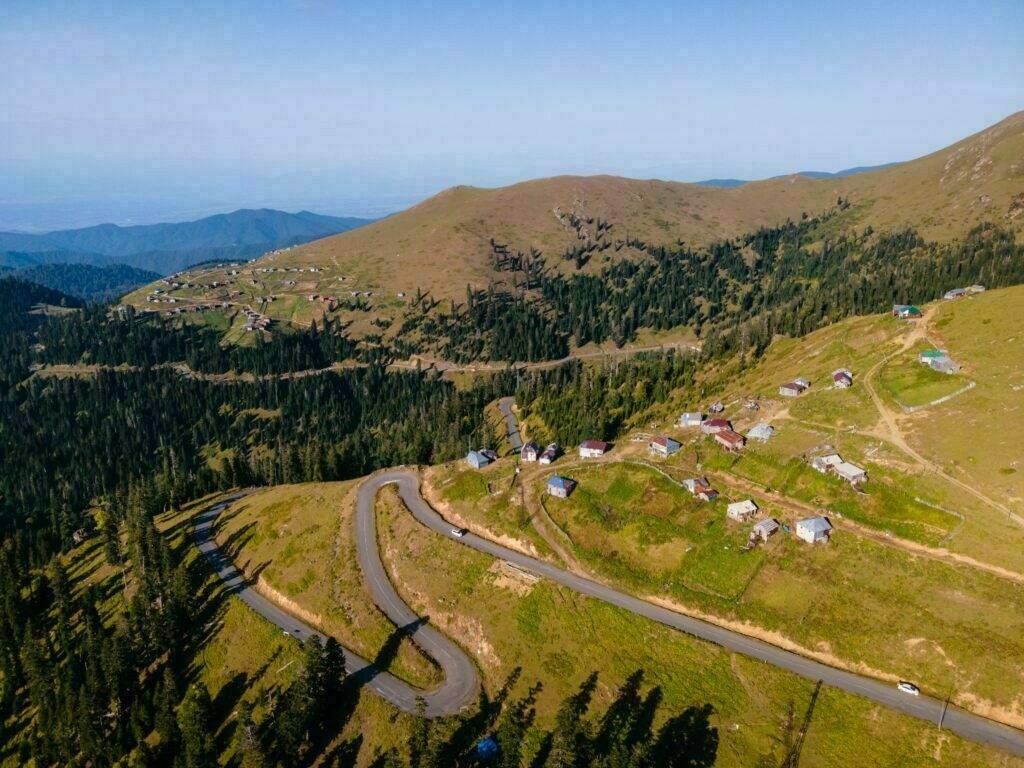 Best Time to Visit Bakhmaro
Bakhmaro's weather patterns vary greatly throughout the year, making it important to plan your visit accordingly.
Spring
Bakhmaro's spring season is short, usually lasting from late March to mid-May. During this time, the weather is mild, with average temperatures ranging from 8°C to 14°C. The area is also known for its beautiful blooming flowers and lush greenery from the back half of April.
Summer
Bakhmaro's summer season is the most popular time to visit, with average temperatures ranging from 18°C to 25°C. The weather is sunny and warm, making it perfect for outdoor activities such as hiking and horseback riding.
Fall
Bakhmaro's fall season is short, lasting from late September to the end of October, maybe early November.
The weather is mild, with average temperatures ranging from 8°C to 14°C. The area is also known for its stunning fall foliage.
Winter
Bakhmaro's winter season is from December to March, with heavy snowfall and average temperatures ranging from -3°C to -10°C. The area is popular for its unique skiing and other winter sports activities.
The best time to visit Bakhmaro depends on personal preferences and interests.
If you are interested in skiing or other winter sports activities, the best time to visit is during the winter season.
For those interested in hiking, relaxing, horseback riding, and more, the summer season is ideal.
Spring and fall offer mild weather and stunning natural scenery, making them great options for those looking for a quieter, more relaxed visit.
Bakhmaro offers something for visitors year-round, with each season having its own unique charm and activities.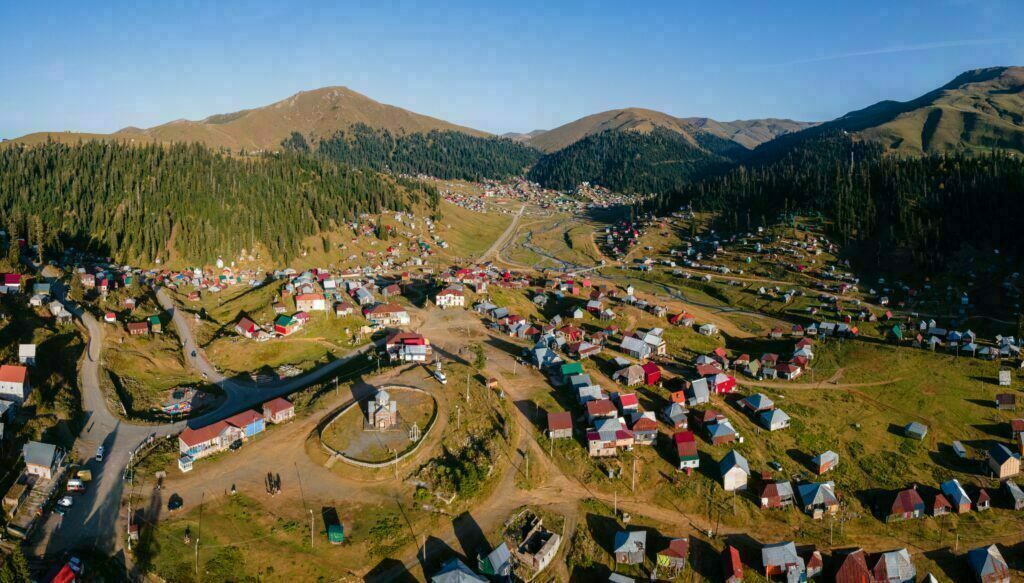 Why Does it Snow So Much in Bakhmaro?
Bakhmaro is located in the Guria region of Georgia, which is known for its unique climate. The region is influenced by its proximity to the Black Sea, which creates a humid subtropical climate. This climate is characterized by mild winters, hot summers, and high levels of precipitation year-round.
Due to its elevation of 2000 meters above sea level, Bakhmaro experiences heavy snowfall during the winter months. This snowfall is a result of the humid subtropical climate interacting with the cold air that comes from the Caucasus Mountains. This creates a phenomenon known as orographic lifting, where the moist air is forced to rise over the mountains, causing it to cool and release precipitation in the form of snow.
On average, Bakhmaro receives around 4 meters of snowfall during the winter season, making it a popular destination for winter sports enthusiasts. The heavy snowfall also contributes to the area's stunning natural beauty, creating a winter wonderland that is sure to take your breath away.
Resorts in Georgia
Georgia is home to several popular ski resorts, each with its own unique features and attractions. Apart from Bakhmaro resort, some of the other popular resorts in Georgia include Gudauri, Bakuriani, and Mestia.
Gudauri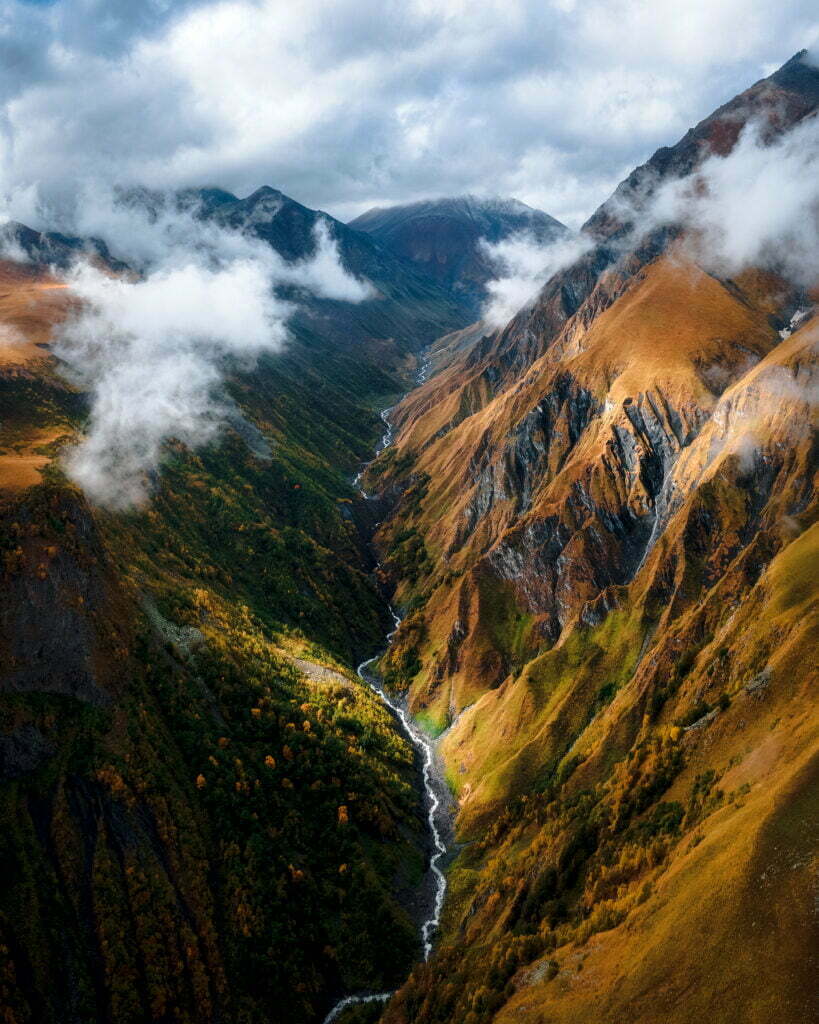 Located in the Mtskheta-Mtianeti region, along the breathtaking Military Highway, it's the largest ski resort in Georgia. It offers a wide range of ski runs, from beginner to advanced, and has a reputation for its great snow conditions and stunning mountain scenery.
Bakuriani
Located in the Borjomi district, it's a family-friendly ski resort that offers a variety of activities, including skiing, snowboarding, and horseback riding. It is also known for its hot springs, which are believed to have healing properties.
Mestia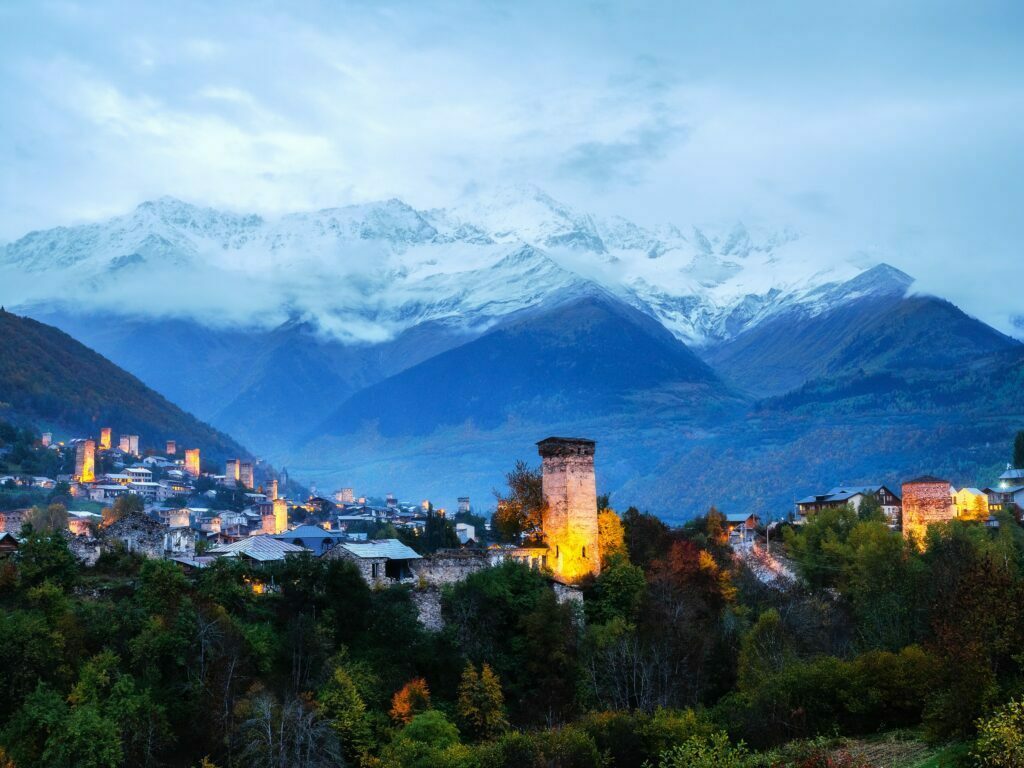 Located in the Svaneti region, it's a popular destination for advanced skiers and snowboarders. It has a range of challenging runs, as well as stunning views of the surrounding mountains and valleys of the Greater Caucasus.
When comparing Bakhmaro resort with other resorts in the country, Bakhmaro stands out for its unique location and natural beauty. Additionally, Bakhmaro is known for its healing air and tranquil atmosphere, making it a great destination for those looking to relax and unwind, especially since there might be fewer tourists.
Georgia is home to several popular ski resorts, each with its own unique features and attractions. When considering a visit to Bakhmaro, it is important to compare it with other resorts in the country to determine which destination best suits your needs and preferences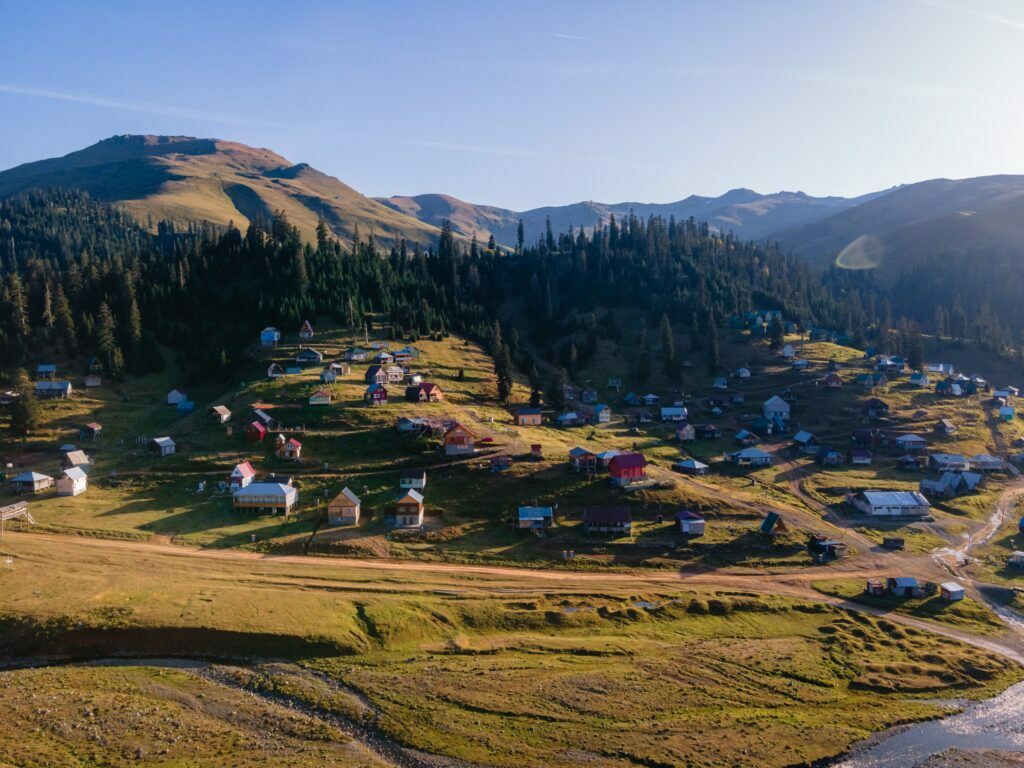 Conclusion
Bakhmaro is a hidden gem in the Black Sea region of Guria, offering visitors a unique and unforgettable experience. From its natural beauty and healing properties to its ski resort and outdoor activities, Bakhmaro has something to offer everyone.
If you're looking for a peaceful getaway or an adventure in the great outdoors, Bakhmaro is the perfect destination.
So why not plan a trip to Bakhmaro and explore the beauty of Georgia's Black Sea region?
With its stunning views, tranquil atmosphere, and friendly locals, Bakhmaro is sure to be a destination you'll never forget.