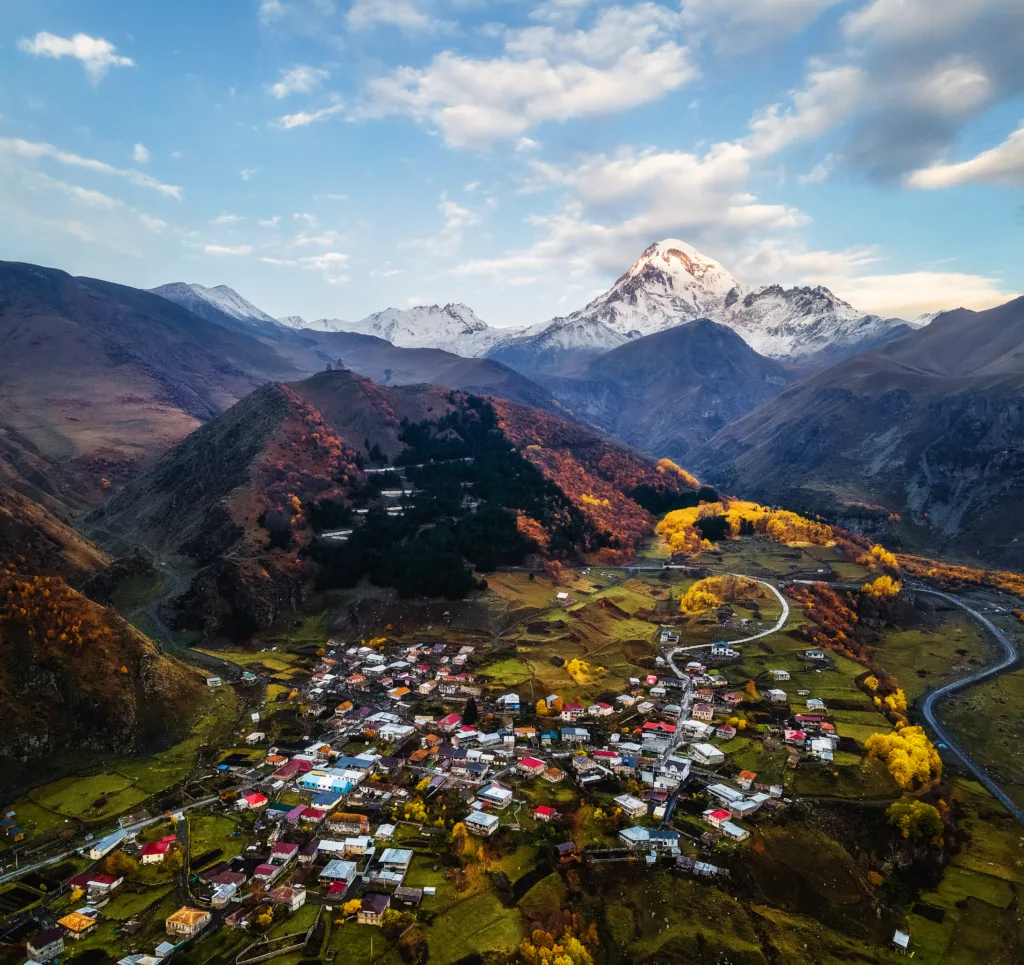 Are you searching for a destination that combines breathtaking natural beauty, top-end outdoor activities, and vibrant culture? Look no further than Kazbegi, Georgia.
This popular mountainous region nestled in the Caucasus Mountains offers a myriad of experiences that will leave any traveler awe-inspired. From hiking to glaciers and volcanic lakes to exploring ancient churches and enjoying the local traditions, Kazbegi is a perfect blend of adventure, culture, and relaxation.
In this guide, I will take you on a journey to discover the wonders of Kazbegi, along with its history and culture, and help you plan the ultimate Georgia trip.
Table of Contents
Kazbegi or Stepantsminda?
Stepantsminda and Kazbegi are two different names used to address the same thing. Well, sort of. The official name of the town and municipality is Stepantsminda, but most people refer to it as Kazbegi, which is also the more appropriate name for the surrounding area with all the hikes and activities I am going to mention later.
Overview of Kazbegi
Kazbegi is a typical mountain town located in the northeastern part of Georgia, just a few hours' drive from Tbilisi. It sits at the base of Mount Kazbek, one of the highest peaks in the Caucasus Mountains standing at over 5000m, and offers visitors stunning views of the surrounding landscape.
Kazbegi has become a significant destination in Georgia's tourism industry due to its unique natural beauty, the array of outdoor activities it has to offer, its cultural heritage, and its easy accessibility.
Visitors of Kazbegi will have the opportunity to explore the old town's typical architecture, sample local cuisine, and experience the warmth and hospitality of its people, but as far as areas of Georgia go, Kazbegi isn't at the top of the list for historical or cultural importance.
Beyond Kazbegi, there are many other cities and destinations in Georgia that travelers may want to consider visiting in order to find that type of experience, such as the other mountainous region of Svaneti, with its own unwritten language and medieval towers, the wine-producing Kakheti region, also well connected to the capital through Gombori Pass, and the diverse Imereti region, which to me represents the quintessential Georgian experience.
Whether you're an adventure seeker, or simply looking to relax and soak up the views, a trip to Georgia is a must. So why not add "Visit Georgia" to your travel bucket list and explore the many cities and attractions this beautiful country has to offer?
For now, let's dive in and discover the wonders of Kazbegi.
History of Kazbegi
Though it might not have the same impact as many other parts of Georgia, Kazbegi still has a rich history dating back centuries.
As a trading post on the edge of the ancient Silk Road, and in part a connection between Europe and Asia, the region played an important role in the exchange of goods and ideas within the supercontinent. Even nowadays, it continues to be the only land connection between Georgia and Russia, if we exclude the disputed regions of South Ossetia and Abkhazia.
In Georgian mythology, Kazbegi was believed to be the home of Amirani, a heroic figure who was said to have been chained to a cliff after all of his actions of defiance toward the gods. Similar to Prometheus, from Greek Mythology, an eagle would eat his liver every day, only for it to be healed at night. It's a very interesting epic to read, you can do so here.
Throughout its history, Kazbegi has been associated with many notable national figures, including Queen Tamar, who ruled Georgia in the 12th century during the country's Golden Age and is remembered as one of its most influential leaders.
The region is also famous for its association with Alexander Kazbegi, a 19th-century writer who was born in the town of Kazbegi and went on to become a prominent figure in Georgian literature.
Today, visitors to Kazbegi can discover the region's history by visiting its landmarks and the Stepantsminda Museum of History. From the ancient Ananuri Fortress along the Georgian Military Highway to the iconic Gergeti Trinity Church, there's no shortage of opportunities to learn about the fascinating past of this area.
So if you're interested in Kazbegi, be sure to include a visit to this enchanting destination on your next trip to Georgia.
Culture of Kazbegi
Kazbegi is a destination that not only offers natural beauty but also a deep cultural experience.
In the summer, the town hosts numerous cultural festivals, such as Kazbegoba and Gergetoba, where visitors can learn in-depth about the region's and overall country's traditions, from folklore to cuisine.
Georgian cuisine is renowned for its hearty, meat, cheese, and bread-based dishes, and Kazbegi is no exception. Kazbegi might not have many dishes unique to the region, but it still offers many opportunities to enjoy traditional Georgian food among the most representative landscapes out there.
The famous Georgian dumpling known as Khinkali has been believed to have originated right in these mountains (along with those in the Tusheti and Khevsureti regions) in the years when the Mongolian influence was the strongest, around the 14th century.
Georgian cuisine is a whole other topic itself, but if there is one aspect that can truly capture the identity of this small but fierce country it's that. With influences from all over, ranging from the Mediterranean to Persia and beyond, while still being able to maintain its essence, Georgian cuisine truly represents the spirit of the people that populate that land.
In addition to these events, there are many other cultural experiences to be had in Kazbegi, from exploring traditional crafts such as carpet weaving to visiting local museums and galleries.
How to get to Kazbegi
Getting to Kazbegi is relatively easy, with multiple transportation options available.
Getting to Kazbegi by car and moving around
Despite being well connected to Tbilisi, a car in Kazbegi can go a long way.
Getting to the town of Stepantsminda is pretty straightforward in any case through the Military Highway, but a car not only offers more time flexibility but also the option to stop along the way to admire the many sites that constellate this road, such as Ananuri Fortress, Gudauri, or Sno.
Many of the iconic activities of the region are also quite distant from the town of Stepantsminda, where most accommodations are. Though it's not hard to arrange a taxi, hitchhike, or take one of the organized busses from Stepantsminda's main square, it is much faster, and sometimes even cheaper, to do everything by car.
Every time I need to rent a car I use this agency. They have the best prices, good service, and they are a local agency.
Whether you need to reach Juta, Kvemo Okrokana, or even Gudauri, a car is the best option.
Getting to Kazbegi via public transportation and moving around
Getting to Tbilisi, more specifically to the Didube Bus Station, is always the first step in order to reach Kazbegi.
Marshrutka
There are numerous Marshrutkas (soviet minibusses) leaving from Tbilisi every day and once every hour, starting at 8 am.
The journey takes about 3/3.5 hours and the fare is 15 GEL.
This option is perfect for those who just want to get to the mountains and start hiking, but it's not optimal for people wanting to discover the beauties that the road to Kazbegi has to offer.
Moreover, if your goal is to attempt some of the hikes that are distant from Stepantsminda, using Marshrutkas to get there won't help much.
Marshrutkas are limited, drivers only speak Georgian or Russian, and if you're able to make them drop you off along the road you have no arrangements for the return trip.
Shared Taxi
A good compromise between a car and a Marshrutka are shared taxis. This type of vehicle is usually not used much by locals for Kazbegi, so you're likely to share it with other tourists.
Even better if you're with a small group of people, then you can get it all for yourselves.
The advantage of the shared taxi is that you can arrange stops with the driver if everyone in the car is on the same page, but since they are mostly catered to tourists that is likely the case.
A seat on a shared taxi from Tbilisi costs around 30 GEL, and the journey takes around 3/3.5 hours. They depart from Didube Station whenever one fills up.
From Stepantsminda, taxis are one of the most used means of transportation used to get around and explore the region.
In the main square of the town there are always a few drivers waiting for tourists to bring around, and whether you're going to Truso or Juta they can help you with that.
Getting to Juta, for example, costs 100 GEL for the whole taxi, including the return trip, if you're planning to come back the same day. It's quite affordable, especially considering that you can split the costs with your group or other tourists, and that the trip from Kazbegi to Juta takes about 40 minutes each way.
Mountain Freaks
If you don't want to deal with discussing prices and times but want someone who speaks English and arranges everything for you, you can use Mountain Freaks' busses service.
From May to mid-October they run a daily bus service that brings visitors to the main hiking destinations in the morning and brings them back by dawn, all for 45 GEL per seat.
Georgian Military Highway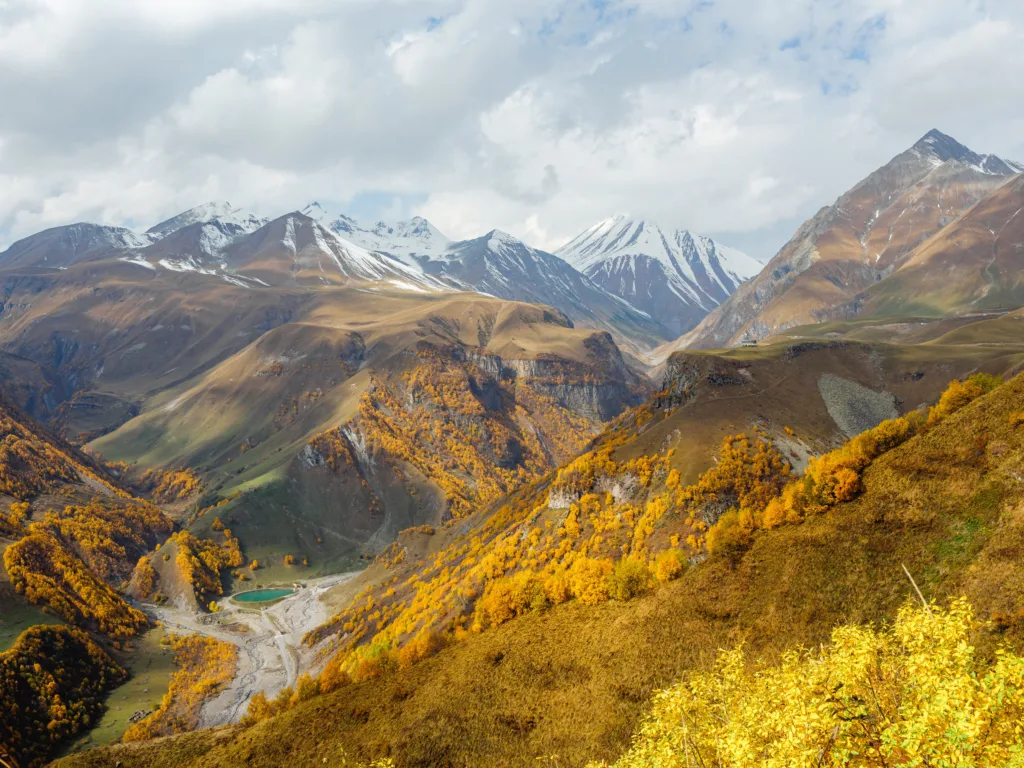 The Georgian Military Highway is a historic road that connects the capital city of Tbilisi to the northern region of Kazbegi, passing through wonderful natural and historical areas of the Caucasus.
The road was originally built in the 19th century to provide a route for military forces and trade caravans to cross the Caucasus Mountains into Russia.
Today, the Georgian Military Highway is a popular tourist route that offers stunning views of the surrounding mountains and valleys. Along the way, visitors can stop at various attractions such as the Ananuri Fortress, Gudauri Ski Resort, and the stunning Gveleti Waterfall.
The road is generally safe and well-maintained, although visitors should be aware that it can be closed during the winter months due to heavy snowfall. The best time to drive the Georgian Military Highway is during the summer and early fall, when the weather is mild and the scenery is at its most picturesque.
Driving the Georgian Military Highway is a great way to explore the natural beauty and history of Georgia, and it's an experience that should not be missed by anyone visiting the region.
Top things to do in Kazbegi
Kazbegi is a paradise for nature lovers with a wide range of activities and attractions to enjoy. Hiking is one of the most popular activities in Kazbegi, with numerous trails of varying difficulty levels available for visitors.
Many popular routes can be a bit distant from the town itself, but nothing that a rented car, taxi, or bus ride (in the right season) can't fix.
Here are some of the top things to do in Kazbegi:
Gergeti Trinity Church
One of the most famous attractions in Kazbegi is Gergeti Trinity Church, a 14th-century monastery located on a hill overlooking the town.
The church is a popular destination for tourists and pilgrims alike, offering breathtaking views of the surrounding landscape, including the iconic peak of the giant Mt. Kazbek.
It's easily reached on foot with a two-hours hike starting from the old part of Stepantsminda (here). However, if you don't feel like walking, there are many marshrutkas and taxis gathered up in this parking spot that bring tourists up and down all day long.
For the numerous day-trippers from Tbilisi, this would be the main highlight, and for great reasons.
Truso Valley
Truso Valley is a remote and rugged region located about 25 kilometers from Kazbegi. The valley is known for its stunning landscapes, mineral springs, and ancient ruins.
The area is accessible by car, but many visitors prefer to hike or bike the 12-kilometer trail from the village of Kvemo Okrokana.
Along the way, you'll pass through a couple of abandoned villages and see the remains of old fortresses, with the main highlight and end-point being the Zakagori Fortress.
The walk poses no threat even to the less experienced hikers, as there is close to zero elevation gain. It's a straight walk through a gorge first, before reaching the entrance to the actual Truso Valley.
It's definitely one of the best experiences to have in Kazbegi that doesn't require any special training or one to do when you just want an easy but still explorative day, as a break from all the big hikes.
The Truso Valley is a unique and peaceful destination that is definitely worth a visit.
Kelitsadi Lake
If you're feeling a lot more adventurous and have great experience in hiking for days, then the hike to Kelitsadi Lake could be the one for you.
Just like the Truso Valley hike, this one also starts from Kvemo Okrokana, but it takes a different direction from the start, aiming directly for the top. The hike's climax is the glacial Kelitsadi Lake, sitting at 3100m of altitude on the Keli volcanic plateau.
Along the way, you'll experience a landscape like no other in the area; rocky, harsh, and dry.
Despite having to cover "only" 27 kilometers, the hike is best suited for three days due to the availability of camping spots and the overall difficulty. In fact, both before and after reaching the lake, you'll have to get over two 3400m passes, having to hike a total of around 2000m of ascent and descent for the whole trip.
It's a difficult but extremely rewarding hike, as not only it makes you discover a new landscape, but it also makes you one of the few that attempt this hike every year.
The scarcity of hikers isn't only due to its difficulty, or due to the fact that the water sources are very limited, but to the proximity of the border with South Ossetia, a disputed region of Georgia.
There is no reason to be scared to attempt this route, as nothing has ever happened, but I suggest not getting closer than necessary.
Gergeti Glacier Hike
The Gergeti Glacier hike is another popular activity in Kazbegi for hikers that are more comfortable with high elevation gains and losses.
This moderate to difficult hike takes you up to an altitude of about 3,300m, where you can enjoy panoramic views of the surrounding mountains and the glacier itself.
The hike typically takes about 8-10 hours round trip and covers a distance of around 20 kilometers, with more than 1500m of elevation gain and subsequent loss. The trail is challenging but well-trodden and relatively consistent, and the reward is well worth it.
It's important to note that once the glacier is reached, it's not recommended to cross it or even walk on it too much without proper equipment and experience. Glaciers can be dangerous, and no photo or rush of adrenaline is worth the risk.
Juta to Roshka via Chaukhi Pass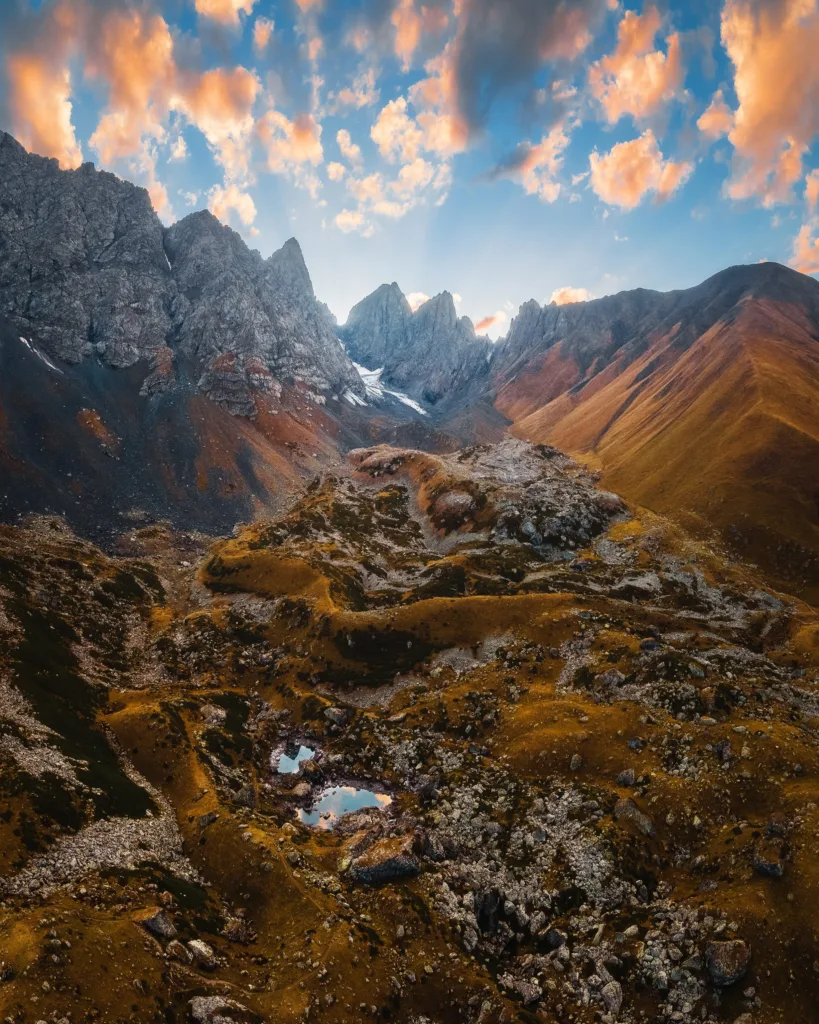 This hike is considered one of the most scenic and challenging treks in Kazbegi. The trail takes you through the breathtaking Chaukhi Pass (3350m), which offers stunning views of the surrounding mountains and valleys, as well as that of the Abudelauri Lakes, a trio of differently colored lakes sitting right below the massif.
The hike is usually an A to B type, meaning that you don't end up back where you started. However, there are a couple of variants that enable tourists to go back to Juta via the Sadzele pass.
The classic hike typically takes about 6/8 hours in order to reach Roshka, and covers a distance of around 16 kilometers. The trail is marked and relatively well-maintained, it can be quite challenging, with steep ascents and descents, but the stunning views and sense of adventure make it well worth the effort.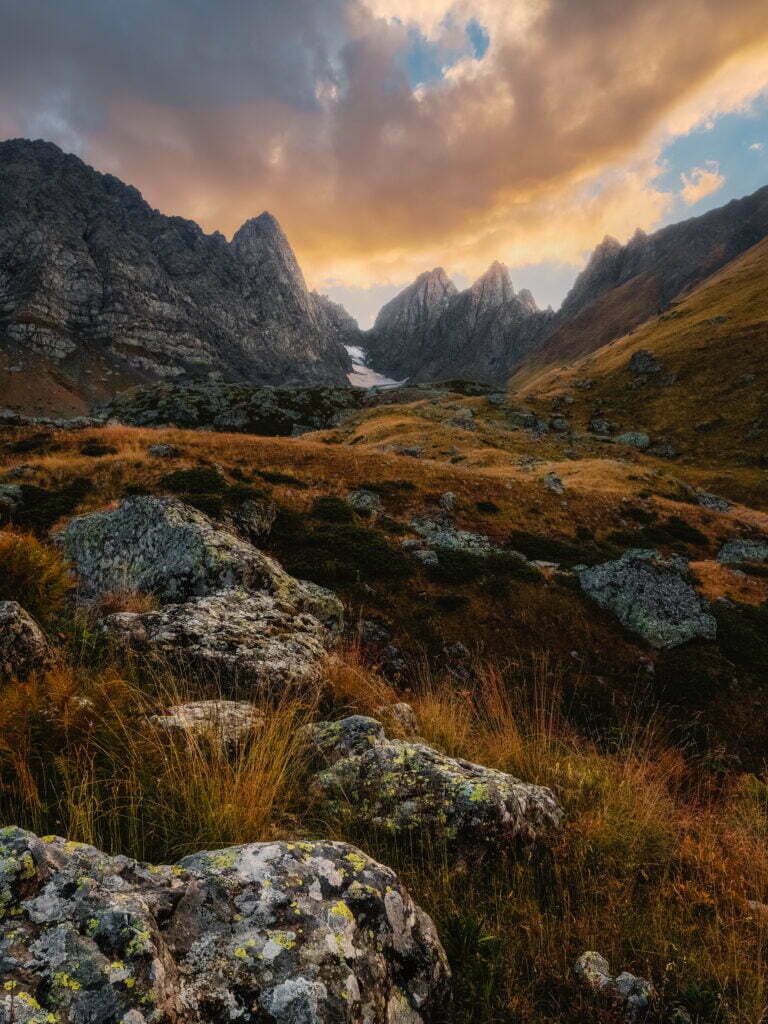 Some hikers enjoy extending their time in the mountains by camping in tents right by the Blue and Green Abudelauri lakes, which offer perfect views of the Chaukhi Massif.
The final destination of the hike is the village of Roshka, where you can rest and enjoy a traditional Georgian meal before getting some deserved rest.
From Roshka, a few people hike all the way back to Juta, a harder variation of the hike, but most people arrange a taxi to one of the villages lower in the valley in order to catch a Marshrutka that brings them to either Stepantsminda or Tbilisi
Kazbegi Marathon (3rd September 2023)
Usually taking place in early September, the Kazbegi Marathon is an annual long-distance event that attracts runners from all over the world.
This year, the program has four different routes suited for any level of runner. No matter what route you chose to take, the Kazbegi Marathon is sure to make any participant discover the natural beauty of this area of the Caucasus.
At the end of the event, the participants are awaited by a warm and typical meal that makes sure to give them back the energy they spent during the day.
In order to participate, you have to be registered, and you can do so along with getting more detailed information here.
Whether you're an experienced hiker or simply looking to soak up the natural beauty of the region, Kazbegi has something for everyone. Don't forget to bring your camera to capture the stunning landscapes of this unforgettable destination.
Is Kazbegi Safe?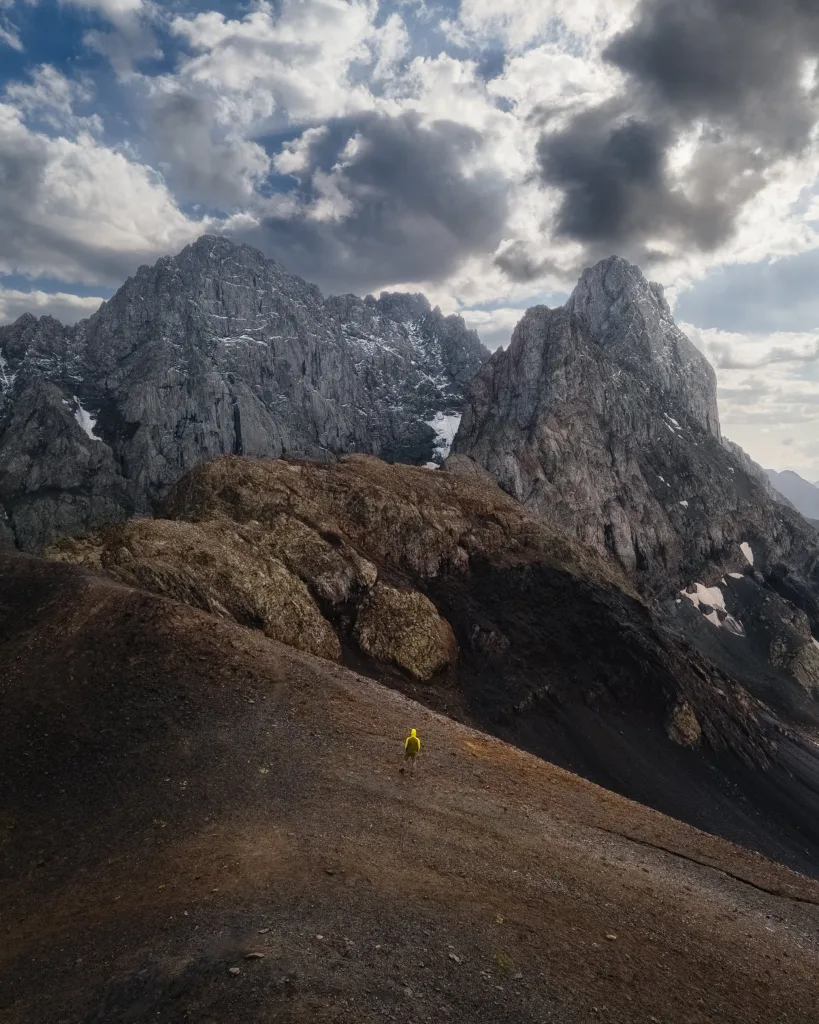 Safety is always a top concern for travelers, and Kazbegi is no exception. In general, there are many types of dangers and, in my experience, Kazbegi qualifies for road safety and hiking concerns.
One common safety concern that visitors may have when traveling to Kazbegi, or to Georgia altogether, is the safety of the roads.
In many cases, the doubts arise not for the quality of the roads themselves (though some of them can absolutely be tough), but mostly for the drivers. Georgians are known for their reckless driving, and the good conditions of the Georgian Military Highway only encourage them to challenge their abilities. It's not rare to see drivers overtake with cars coming in the other direction, or in turns.
My recommendation is to drive conservatively. I don't mean to say "go slow", but rather to not embrace the chaos and follow other drivers in their hazardous maneuvers.
It's also noteworthy that many times the whole length of the road connecting Tbilisi to Kazbegi has kilometers of semi-trucks parked on the sides of the road, usually taking up half of the right lane. In those cases, it's absolutely necessary to maintain an even higher level of caution, especially if driving at night.
Side note: If you're renting a Toyota Prius, note that those cars have terrible lights, making it extremely challenging and definitely dangerous to drive after dawn. I have had my series of close calls, and now I would much rather spend a bit more or plan better in order to avoid night driving.
Additionally, visitors should be aware that the roads in the region can become slippery and treacherous during inclement weather, so it is important to check weather forecasts and road conditions before setting out on a trip.
Despite all this, the drive to Kazbegi along the Georgian Military Highway is one of the best ones in the country, with good road conditions and breathtaking scenery all around.
Georgia as a whole is one of the safest countries out there, but in mountainous areas there are dangers that are common all over the world, such as sudden weather changes or wild animals.
Visitors who plan to engage in outdoor activities, such as hiking or skiing, should make sure they are properly equipped and prepared.
Overall, Kazbegi is considered a safe and welcoming destination for visitors. By taking basic precautions and being aware of potential hazards, visitors can enjoy a safe and memorable trip to this beautiful region of Georgia.
Conclusion
Kazbegi is a must-visit destination for anyone traveling to Georgia. With its concentration of stunning landscapes, cultural events, and outdoor activities, Kazbegi has become a popular spot for both domestic and international tourists.
Between visiting the Gergeti Trinity Church, exploring Truso Valley or the Volcanic Keli plateau, and experiencing local festivals, there are plenty of things to do in Kazbegi.
I highly recommend adding Kazbegi to your Georgian itinerary for the best hiking experiences of your trip and for incessant breathtaking views.