Welcome to the ultimate travel guide to Ushguli, Georgia's highest continuously inhabited village and a must-visit destination for adventure and nature enthusiasts.
Nestled in the heart of the Svaneti region, Ushguli is a UNESCO World Heritage Site and is renowned for its traditional Svanetian architecture, stunning mountain views, and rich cultural heritage.
This comprehensive guide will take you through the history and significance of the region, the unique aspects that make Ushguli special, the best hiking trails to explore, and how to get there safely.
So pack your bags and get ready to experience the unparalleled beauty of Ushguli.
Table of Contents
Svaneti's History and its Significance in Georgia
The history of the Svaneti region is rich and fascinating, and it's considered to be one of the most significant cultural centers in the country.
The region has been inhabited for millennia, and it's home to a wealth of cultural and natural treasures that make it one of the most unique places our planet has to offer.
The Svan are the people that have stood on this land ever since anyone can remember, people with a unique unwritten language, interesting customs, and a fierce soul.
For thousands of years, the passing empires that conquered and influenced the rest of Georgia had a hard time dismantling the strong communities that live in the valleys of Svaneti, resulting in only strengthening their sense of identity and pride with each try.
The Svans used the traditional Medieval towers that still characterize villages in Svaneti, such as Ushguli, as their main defense against invaders. The harsh environment that they had to deal with was already a big deterrent in their quest for conquer, with the valleys serving as a funnel towards the Svan settlements, typically accessible from one way only, from below.
Ushguli sits at an elevation of 2100m in a valley surrounded by peaks that easily reach 3000m, making it almost impossible to be taken by surprise from the sides.
To make things better (or worse, if you're the enemy), to the North of Ushguli lies the tallest mountain in Georgia, Mount Shkhara. With its 5200m, Shkhara is imposing enough to make enemies turn around at first sight and to give comfort to the Svan, who grew accustomed to that view during their long stay in the area.
It's the combination of these factors that enabled the Svan to retain their identity throughout all this time.
The traditional towers of Svaneti and Ushguli were mostly built during Medieval times, with the oldest ones dating back to the 8th/9th century. Throughout the following centuries, the towers remained a staple of the land as means of defense not only against invaders but also against the community itself.
For a long time, the Svans were known for their internal feuds that often resolved in murders. That's why the towers were kept and continued to be implemented, being used for barricading and protecting families from close-by attacks.
Today, the couple of hundred remaining medieval Svaneti towers serve as a reminder of the region's rich history and cultural significance, and are a popular attraction for visitors to the area. You can enter some of them by kindly asking around Ushguli and the villages that compose it.
The Svan people have had a big impact on the image that the outside world has of Georgia. Their fierce and resistant nature has become a symbol for the whole country, which also has a language that's not shared with anyone else and a strong sense of identity, which are some of the main things that give Georgia its beloved character that's difficult to not fall in love with.
What makes Ushguli special?
Ushguli is famous for being one of the highest continuously inhabited villages in Europe, with an elevation of 2,100 meters (6,900 feet) above sea level.
The village is also known for its historic Medieval defensive towers, which have been standing for centuries and serve as a symbol of the Svanetian indigenous people's (the Svan) strength and resilience.
These buildings, with their unique design and construction, are a testament to the ingenuity and craftsmanship of the Svanetian people. If you visit Ushguli you can explore these historic structures and gain insight into the daily life of the village's inhabitants.
Its UNESCO World Heritage Site status further highlights its significance and importance to Georgian culture and history.
Additionally, Ushguli's unique location in the heart of the Caucasus Mountains and its well-preserved traditions and way of life make it a fascinating destination for cultural and outdoor enthusiasts alike.
Ushguli's location in the Caucasus Mountains provides visitors with breathtaking views of the surrounding peaks and valleys. The village is located at the foot of Shkhara, the highest mountain in Georgia, which is only part of the Bezengi Wall, a 12-kilometer-wide massif that's continuously above 5000m of elevation.
The natural beauty of the area has made Ushguli a popular destination for hikers and outdoor enthusiasts who come to explore the numerous hiking trails that wind through the mountains.
Svaneti is nowadays mostly visited for its stunning natural scenery, including towering peaks and lush alpine forests, and outdoor activities, but it's those factors in combination with its traditional architecture, culture, unique language, and food that permit it to be distinguished from other areas of Georgia.
Top things to do in Ushguli
Whether you're interested in hiking, learning history, experiencing culture, or simply relaxing and enjoying views from the past, Ushguli offers all of this at the highest level.
Outdoor activities and hiking in Ushguli
One of the most popular things to do in Ushguli is to explore its stunning natural surroundings. The village is surrounded by incredible peaks, glaciers, waterfalls, and forests, making it an ideal destination for hikers and nature enthusiasts.
Hiking in Ushguli offers several trails and routes available, ranging from easy walks to challenging multi-day treks. Some of the most popular routes include the trek to Shkhara Glacier for the day-trippers, the hike to the Chazhashi Tower, and the trail to the village of Adishi.
I'll touch on some of the best hikes in Ushguli more in-depth further down in the guide.
Discover the traditional Svan architecture and culture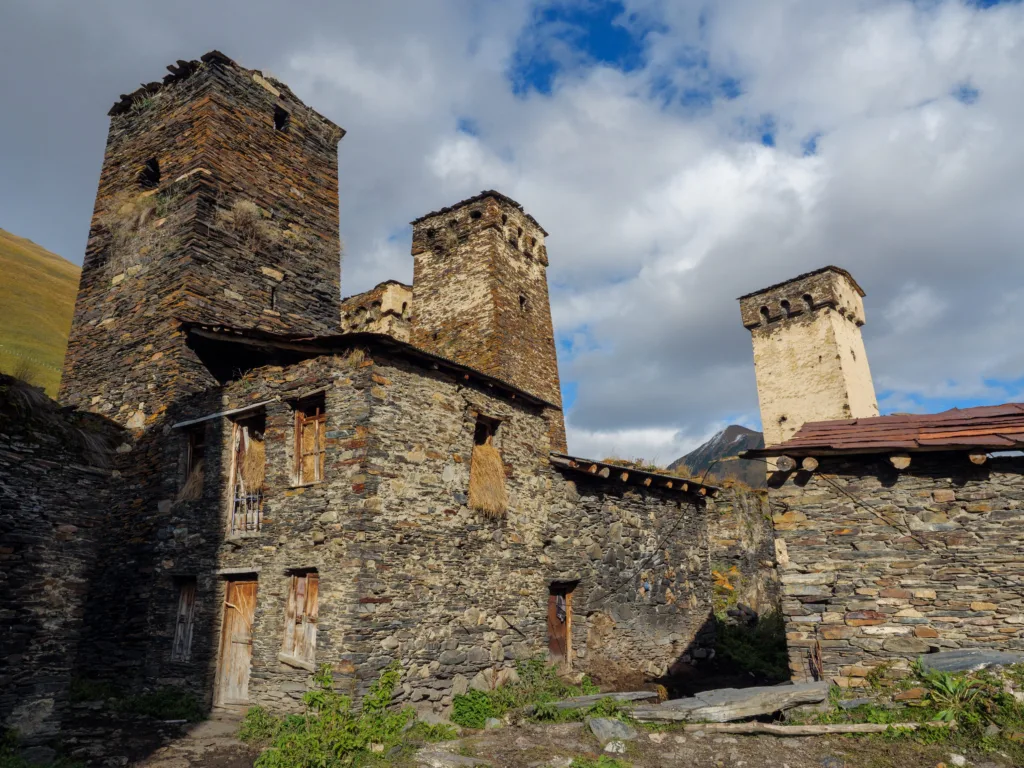 Hiking in Mestia definitely has more options and variety than in Ushguli, so if you're visiting on a day trip you can still enjoy the fresh air and views while visiting the traditional villages of the valley.
Ushguli's traditional Svanetian architecture is one of its most distinctive features, and you can explore the numerous towers and fortified structures that dot the landscape to immerse yourself in the peculiar atmosphere.
There are also some historic churches and monasteries in the area, such as the iconic Lamaria Church.
It's also possible to visit the Ushguli Ethnographic Museum, which displays artifacts and exhibits related to the local culture and history.
Taste unique Svan food
When it comes to dining, Ushguli has a few local, modest restaurants and cafes that offer delicious Georgian and Svan cuisine.
The most famous icon of Svan cuisine is Kubdari, not too dissimilar from other dishes in Georgian cuisine as far as main ingredients go, but with a distinctive taste given mostly by the Svanetian salt, a mix of salt, spices, and herbs that is usually slightly different from house to house.
Kubdari is a dough filled with minced beef that's cooked with onions, garlic, a few more herbs and spices, and the aforementioned Svanetian salt. It's imperative to taste it in the place it originated.
Kubdari isn't the only thing to eat in Ushguli of course, there's a whole array of Svan dishes ready to be sampled. Svan cuisine is highly based on cheese, beef, bread, and potatoes, so there is no doubt that eating as per tradition will give you enough energy to hike the mighty mountains that surround Ushguli. Make sure to not over-eat though.
Search for the best angle to immortalize the views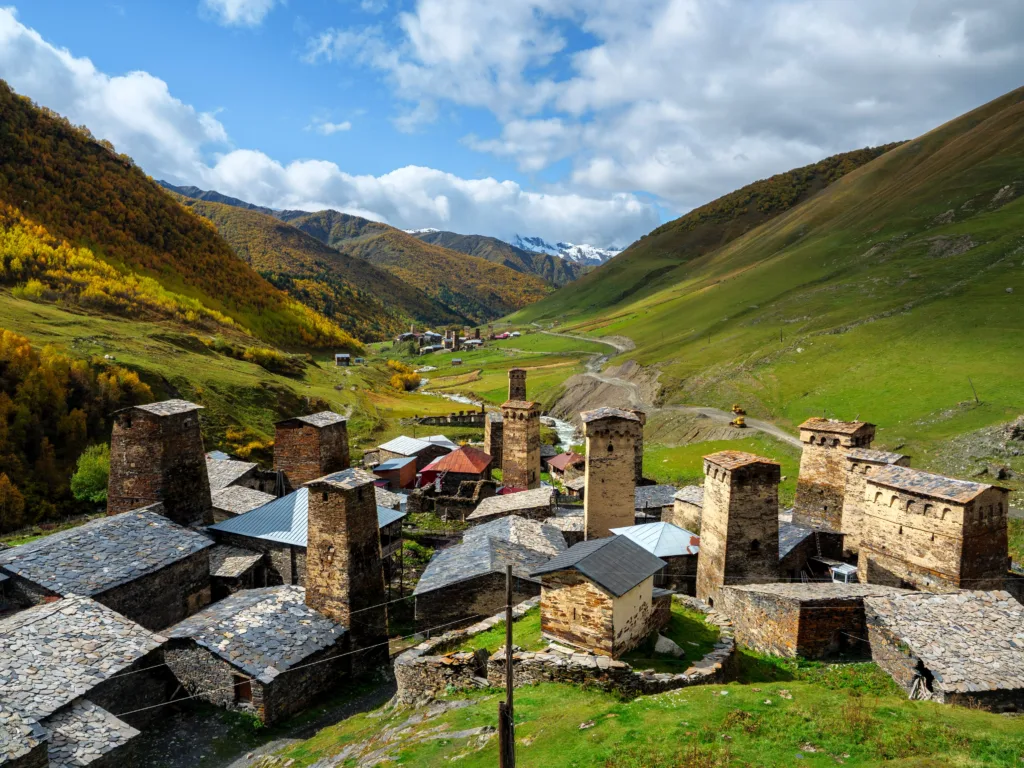 Whether it's from the top of one of the surrounding mountains, or simply from the tower dedicated to Queen Tamar, Ushguli is full of incredible views that just make your jaw drop.
Unfortunately, I have no official numbers, but I like to think that a good amount of people that visit Ushguli tend to consider photography as a way of life when they get there.
The village is the perfect destination for photographers that aim to represent the heart of Georgia.
Overall, there are plenty of things to do in Ushguli, whether you're interested in hiking, history, or culture. With its stunning natural beauty, rich cultural heritage, and delicious cuisine, it's no wonder that this village is one of the most popular destinations in Georgia.
Best hikes in Ushguli
Ushguli is a hiker's paradise, with several stunning trails and routes that offer breathtaking views of the surrounding mountains and valleys. Whether you're an experienced hiker or a beginner, there are plenty of options available to suit your skill level.
Shkhara Glacier Hike
Distance: 16 km, round trip
Duration: 5-6 hours
Elevation gain: 500 m
When to go: April – October
Totaling up to 16km for the round trip, the Shkhara Glacier hike brings you up close to the glacier of the tallest mountain in Georgia, following the Enguri river valley where Ushguli itself lies.
It's the perfect hike for people going to Ushguli as a day trip from Mestia, as it doesn't cover too much elevation difference, with 2430m being the highest point, and takes about 5-6 hours in total.
The route couldn't be easier to follow, departing from Lamaria Church directly towards Mount Shkhara on a 4×4 track for most of the way.
Other options make this hike shorter and easier, such as going with a 4×4, which basically halves the time, or on horseback, both valid and spectacular ways to enjoy your time.
The Shkhara Glacier restaurant is as far as 4x4s can go, as the gravel road stops there, but with a horse you can definitely get further.
All options can easily be arranged in the main square of Ushguli or by simply asking around in the village. People are extremely kind, and even if you don't speak Georgian, Svan, or Russian, they'll find a way to help you.
Tamar's Castle Hike
Distance: 4.5 km, round trip
Duration: 2/2.5 hours
Elevation gain: 250 m
When to go: April – October
This is probably the easiest hike in Ushguli, as both duration and distance are barely enough to classify it as such. Nonetheless, it still provides some of the best views you can get in the area, with the two main settlements and the Bezengi wall in the frame.
To reach it you have to get to the Murkmeli settlement, the Southernmost of Ushguli, and simply follow the valley behind the cliff with the castle on top of it. You can find the trail here.
Zagar Pass Hike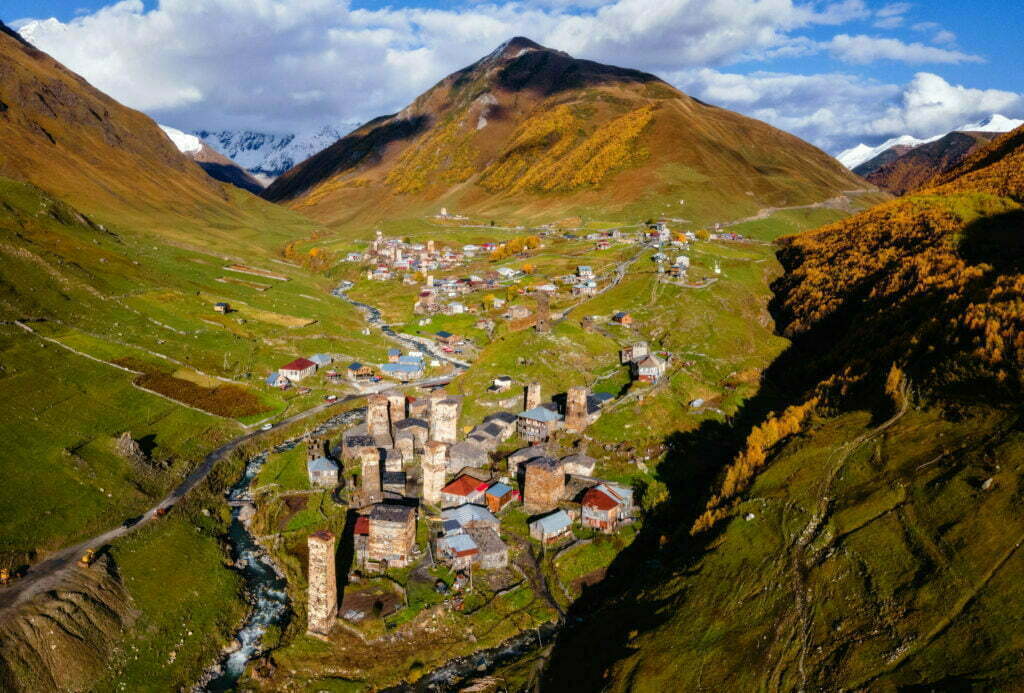 Distance: 18 km, round trip
Duration: 7 hours
Elevation gain: 500 m
When to go: May – October
Zagar pass is the only connection east of Ushguli between Upper and Lower Svaneti. Through a dirt road, suitable for 4×4 and horses, it can bring you all the way to Mele, a village in Lower Svaneti that's often the final destination of the two-day hike connecting it to Ushguli.
Back to this hike, the terrain might not be too exciting, as it is simply the car road, but the views make the effort worth it.
Throughout the hike, the views won't be the same as most other routes around Ushguli, as the mountains surrounding the road cover Mount Shkhara. Instead, Mount Ailama is the star of the hike to Zagar Pass, a 4547-m giant that's considered one of the hardest peaks to climb in the area.
Once you reach Zagar Pass there's a small road to the left that leads to a small chapel on the side of the Lasdilisghele river valley, where views of the Bezengi Wall and Mount Shkhara finally open up.
Other Ushguli Hikes
Many other hikes leave from Ushguli, and many can be done as part of the Mestia to Ushguli multi-day hike, but for now, I won't put difficult hikes that I don't know the conditions of here.
To discover other hikes in the area you should check Caucasus Trekking.
How to get to Ushguli, Svaneti
Ushguli is located in the most remote corner of the Svaneti region, and getting there can be a bit of a challenge. However, the journey is well worth it for the stunning views and unique experiences that await you.
Getting to Ushguli by car
The first stop for anyone that wants to reach Ushguli is the mountain town of Mestia, one of the many resorts in Georgia.
Mestia is the perfect getaway for the Svaneti region. From there it's possible to partake in numerous hikes of variable difficulty, from simple strolls to nearby lakes and day hikes to glaciers all the way to multi-day hikes to villages in Upper Svaneti or one of the mighty peaks surrounding the town.
To get to Ushguli you have to pass through Mestia, and I would honestly recommend stopping there altogether if you're driving yourself.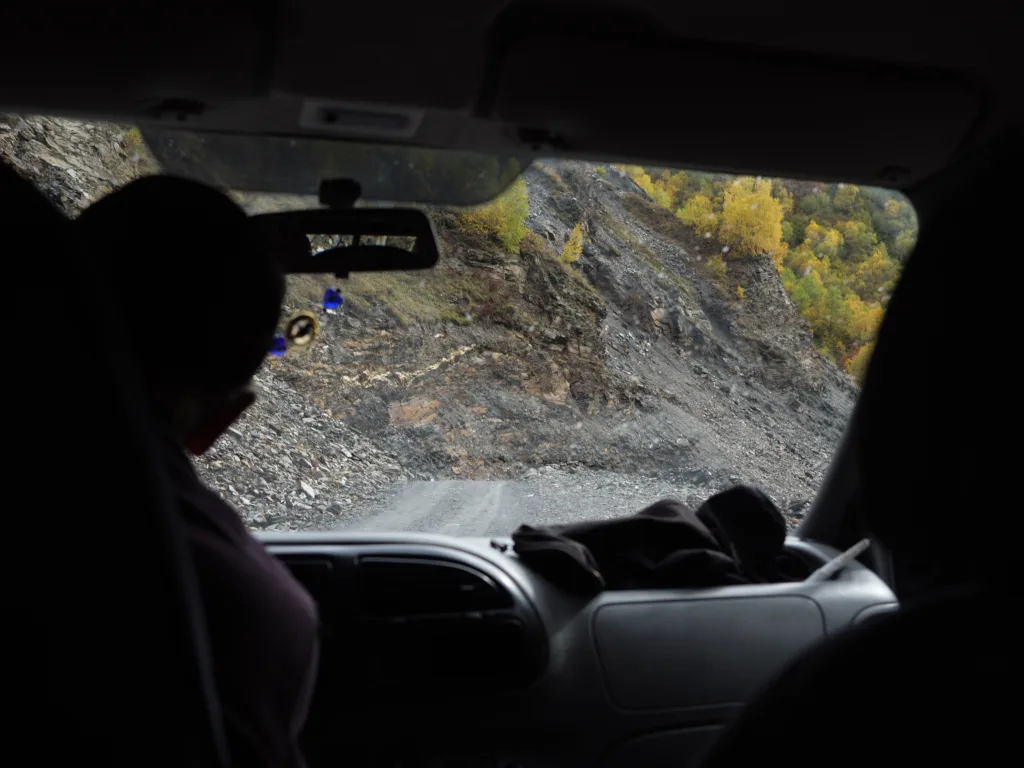 The road to Ushguli is narrow, unpaved, and damaged. It's necessary to have a high-clearance 4×4, as big rocks falling from the sides of the mountains can be found on the road.
Unless you have the right vehicle and a lot of experience driving on this sort of terrain, I don't recommend driving to Ushguli by car.
The Georgian government is working on asphalting the road as quickly as they can, but so far they haven't reached halfway yet. We'll have to wait a few more years.
After all, it is much easier to just leave the car in Mestia and take a Marshrutka to Ushguli, as the drivers do this every day and there is little to no risk involved.
Getting to Ushguli via Marshrutka
A marshrutka ride from Mestia to Ushguli takes about 2/3 hours and costs 40 GEL per person with a full car, including the ride back.
If you're planning to stay more than one day, which I highly recommend, you can talk to the driver and either go back with him when he eventually comes back, or possibly pay half. I can't guarantee though.
Depending on the month of your visit there may be more rides than usual, but prepare to leave early in the morning, as the ride is long and you need time to enjoy the landscape. Usually, Marshrutkas start leaving at 7:30 am, and then it really depends, but I'd say that one per hour from there on.
In high season, it's best to book a seat the day prior at the ticket office, which is in the main square right beside the Marshrutka stop.
Beware of people trying to charge you way too much. This happens in Ushguli and Mestia more often than in any other part of Georgia, as the main way to reach the remote village is under the control of the drivers.
How to get to Mestia
Mestia can be easily reached via Marshrutka from Zugdidi's Railway Station (4 hours, 20 GEL) or Kutaisi's Railway Station (6 hours, 25 GEL). There you can see Marshrutkas with Mestia written in Latin letters, but if you don't you can just ask anyone standing around and they'll point you in the right direction.
To get to Kutaisi from Tbilisi you can take a Marshrutka, which takes 3 hours, or the train, a longer but more comfortable option that can also take you directly to Zugdidi.
The train ride takes 5 hours and 30 minutes and costs 16 lari for the second class.
To check any railway itinerary in Georgia, go here.
Hiking the Mestia to Ushguli multi-day hike
The most famous hike in all of Svaneti, possibly even Georgia, is the multi-day hike from Mestia to Ushguli.
This is a classic of the region which brings you through various mountain passes and traditional villages, with views of the Greater Caucasus' most iconic mountains, such as Ushba, Elbrus, and ultimately Shkhara.
The reason why this hike is so famous, besides its beauty, is that there is no need to bring camping gear, as each of the 4 days ends in a village with at least one guesthouse. Accommodation can easily be booked through Booking.com.
Best time to visit Ushguli
Ushguli is suitable to be visited from late April to early November, but there are some limitations the further you are from the warmer months.
The best time to visit Ushguli is generally during the summer, from June to September, when the weather is warm and the skies are clear. During this time, visitors can enjoy hiking, sightseeing, and other outdoor activities to their full extent, without worrying about cold temperatures or snow.
Plus, with clear skies, you'll hopefully see Mount Shkhara as a whole, as it usually tends to hide in the clouds.
However, you should be aware that summer is also the busiest time of year in Ushguli, and the village can become crowded with tourists. For those who prefer a quieter experience, the shoulder seasons of May and October can be a good alternative, as the weather is still mild but there are fewer visitors.
Winter is also a beautiful time to visit Ushguli, but only for those who enjoy winter sports such as skiing and snowboarding. The road from Mestia is closed due to snow during the winter months.
Is Ushguli safe?
Ushguli and the Svaneti region have in the past had a tough reputation for their safety, but as far as people go, it's been decades since anyone has had to fear anything in this area.
Nowadays, Ushguli is as safe as any other place in Georgia, and if you know about the kindness and hospitality of Georgian people, there is nothing to be worried about.
The only safety concerns come from nature itself and the road conditions.
As I previously mentioned, the road to Ushguli is not in good condition, and it can feel dangerous, but drivers know what they're doing, and as long as you don't go with your own car you have nothing to worry about. Just don't look down too much.
It is always worth noting that the weather in the mountains can be unpredictable, and visitors should be prepared for sudden changes in weather conditions, especially in the earlier and later months of the season.
It's recommended to check the weather forecast before any outdoor activities and to bring appropriate clothing and gear.
Overall, Svaneti and Ushguli are safe and welcoming destinations, and with some basic precautions, you can enjoy all the region has to offer without any concerns.
Conclusion
Ushguli is a truly unique destination in Georgia, offering visitors the chance to experience a rich blend of cultural, historical, and natural attractions. From its traditional Svan architecture to its stunning mountain landscapes, there is something for everyone in this charming village.
Whether you are an avid hiker looking to explore some of Georgia's most beautiful trails, or a culture lover interested in learning about the region's traditions, Ushguli has something to offer. With its UNESCO World Heritage Site status and its position as one of Georgia's most beloved destinations, it is clear that Ushguli is a must-visit for any traveler to the region.