Different people have different views about their ideal relaxing situation. For some, it's all about sunbathing on an idyllic beach in some secluded atoll, others want to be immersed in nature, hiking for hours in order to secure the best sunset view, and for a good amount of people, the main factor isn't necessarily the scenery or the activity, but the people surrounding them.
What's possibly able to capture the essence of all these scenarios and put its own twist on them is the Black Sea resort village of Ureki, in the subtropical region of Guria, in Georgia.
Situated along the Black Sea coast of Georgia, Ureki is a leading destination for beach lovers visiting the Caucasus, or for anyone that wants a break from hiking in the mountains.
Ureki is known for its black sand beach that stretches for many kilometers, a rare occurrence that has been proven to be even more special when scientists discovered that the combination of the warm black sand, the region's climate, and the air coming from the sea have great health benefits.
These unique characteristics have been proven to help with curing diseases of cardiovascular, musculoskeletal, and central nervous system nature.
Not only that, but Ureki is also close to some of the most beautiful mountains the area has to offer, the Lesser Caucasus range. It's a wonderful idea to alternate some time on the beach and some other hiking in places like Bakhmaro, taking in boundless views of what Georgia has to offer.
Ureki is well connected to the main cities in Georgia, making for a perfect day trip if you're on a time budget, and for the ideal break from all the exciting but tiring experiences found around the country.
Table of Contents
Where is Ureki?
Ureki is one of the main settlements along the Black Sea coast of Georgia, at a distance of 55km from Batumi and 105 from Kutaisi, the two main cities of the western area of the country.
The resort village is part of Guria, the smallest region of Georgia that borders Adjara, Imereti, and Samegrelo.
Despite its size, Guria is an incredibly interesting region with unique culture and territory. Apart from black sand beaches like in Ureki, the region is also the stage where part of the Lesser Caucasus almost dips into the Black Sea, with villages at an elevation of over 2000m from which is possible to see the sun setting into the water. It's extremely diverse.
Why is the sand in Ureki Beach black?
The sand beaches that are situated along the 12km coast included between the Supsa and Natanebi rivers all have similar characteristics and composition to Ureki, which is the biggest and more recognized one in the area.
The black color of the sand in Ureki is due to the presence of small fragments of titanium and magnetite, which have been deposited there through thousands of years by the two rivers previously mentioned, along with other less visible and less concentrated sediments which make this beach that much different from other black sand beaches.
If you're wondering if the sand feels any different than from normal beaches, it does. Despite knowing that all this sand is full of fine metal sediments, it's not more scratchy than usual. It's a pleasant sensation, although harder to clean off of your body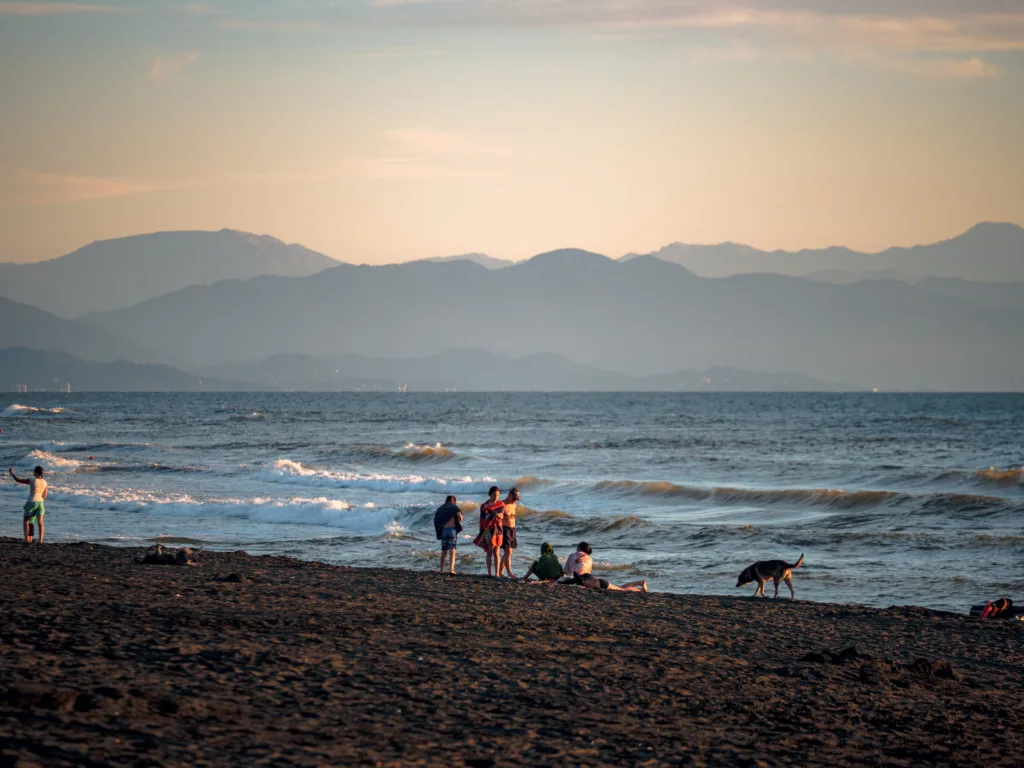 Does Ureki Black Beach have healing properties?
One of the main reasons that make Ureki Beach so special is the fact that it's the only black sand beach in Georgia and one of the only of its kind in the whole world.
However, some of you might know from experience or from seeing them somewhere that there are a few other places with black beaches throughout our planet, such as those in Hawaii, Costa Rica, and Iceland.
So, how is this any different?
Ureki Beach isn't only noteworthy because it has black sand, but more so for the characteristics of said sand, which has been believed to have curative properties for a long time.
Ever since the Medieval times, people who spent time in Ureki reported healing from certain diseases, and this phenomenon attracted studies from various Universities from all over Georgia in the 1970s. Since then, scientists have been studying the area.
The peculiarity is that scientists have been able to demonstrate and prove that the black sand of Ureki, coupled with the magnetic field created by the metals found in it, actually has healing properties, and that several diseases of cardiovascular and musculoskeletal nature can effectively be treated with it.
It's important to note that in order to obtain benefits from them, the treatments need to be sustained for around 15 days or more, once a day.
Much like other spots in Georgia that are known for having healing properties, such as Bakhmaro, the process isn't a miraculous exposure, but one sustained for a medium-long period of time.
Ureki Black Sand Beach Treatment – Psammotherapy
Sand has a long history of being used for treating diseases, tracing as far back as the Roman Empire.
Psammotherapy refers to warm sand being used to cover a person's body except for their head and in some cases the heart area.
This treatment lasts for at least around 30 minutes and even up to 2 hours for an adult, and 10 to 15 minutes for children.
The benefits of Psammotherapy are numerous, and the main reported working cases for Ureki are for dealing with problems of cardiovascular and musculoskeletal nature.
Sand is an amazing heat conductor, and the action it serves in this treatment is toning and heating the body, which dilates the blood vessels, enabling better blood transmission to tissues and internal organs.
If when reading this you've thought about the possibility of doing psammotherapy in a closed and artificial environment in order to obtain all these health benefits without having to go to the beach, I have bad news for you.
This treatment is so much more effective if done right by the sea, where the sand is naturally heated by the sun and where there's the cumulative effect of the sea air and water, other crucial factors to the miraculous healing properties of Ureki.
Moreover, as I said earlier, Ureki is the only sand beach in the world with scientifically proven health benefits that can be obtained through this treatment, so the magnetic field created by the minerals in the sand is also a necessity.
How to do Psammotherapy in Ureki
In Ureki, psammotherapy is done right on the beach, and you can very simply do it autonomously and safely by following a few rules.
The first thing you want to do is to find a proper spot and feel the temperature of the sand; if it's too hot, to the point of it being uncomfortable, you can mix it up, as just a few centimeters below the temperature drops significantly.
After that, you should lie down on the sand and cover yourself with a layer of sand not thicker than a couple of centimeters. Make sure to not cover the heart area and the head. Not only that, but try to put your head in the shade, either with a cap or with a towel.
Stay in that position for around 30 minutes for a standard session, and up to 2 hours if you want to have more benefits faster and you feel like you can withstand it. A child shouldn't do it for more than 15 minutes.
After you're done, don't jump in the Black Sea water to clean yourself. You can either take a warm shower, but good luck finding that, or you can scroll the excess sand off, but in both cases the following step is to rest for at least 1/1.5 hours in the shade.
This treatment should be done around 15 times to get the most of the benefits, but even doing it fewer times can help.
Contraindications for Psammotherapy in Ureki
This treatment can offer aid in curing certain conditions and diseases, but it's not a universal medicine you can use for every ailment. There are a few situations where doing this sort of treatment can not only be useless but also damaging.
People with tumors, tuberculosis, blood diseases, and asthma should refrain from doing psammotherapy in Ureki.
Overview of Ureki's Black Sand Beach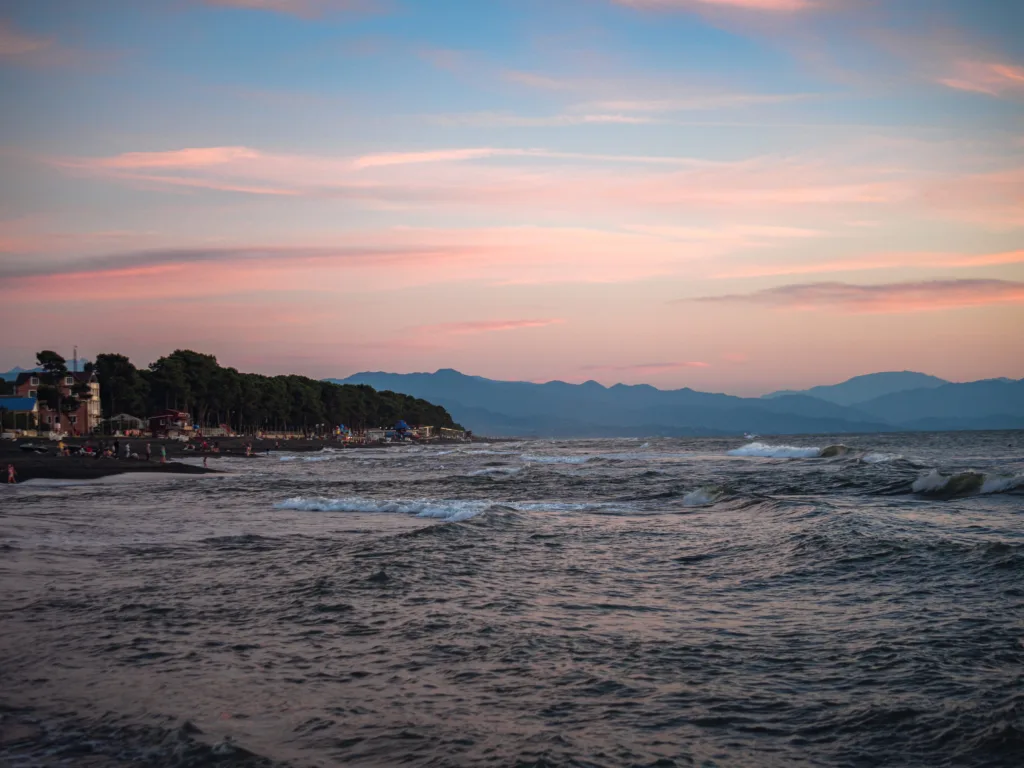 In recent years, Georgia has seen an exponential increase in tourism, drawing visitors from all over the world thanks to its incredible variety of landscapes, activities, cultural experiences, and affordability.
However, I think it's safe to say that the beaches and sea options that the country has to offer aren't what's driving this upsurge.
Most beaches in Georgia are cobblestone ones, and those that aren't often don't have the most appealing sea stretches. After all, the Black Sea isn't the most renowned bathing spot if you're looking for aesthetics (although there are some options).
Ureki is one of the sole sand beaches in Georgia with a good stretch of sea, and on top of that, it also has all the health benefits that its black magnetic sand provides.
A favorable point for Ureki is that its sea is incredibly shallow for the first 50-100 meters, depending on where along the coast you are, only reaching up to waist/chest level, making it accessible for most people and safer for children.
The village is a small one, but it has plentiful accommodations options, from low-budget guesthouses to medium-range resorts, and restaurants.
The beach isn't equipped with beach loungers and umbrellas, but you can rent them and other beach equipment at a few spots in the village.
There are a few toilets and showers along the beach that can be used by anyone, with a small fee for the showers.
During the high season, lasting from June to September, Ureki Beach is often full of people in its entirety, with just a few spots being quieter. It has become one of the premier sea destinations in Georgia for its beauty, uniqueness, and for its lower prices compared to Batumi and Kobuleti.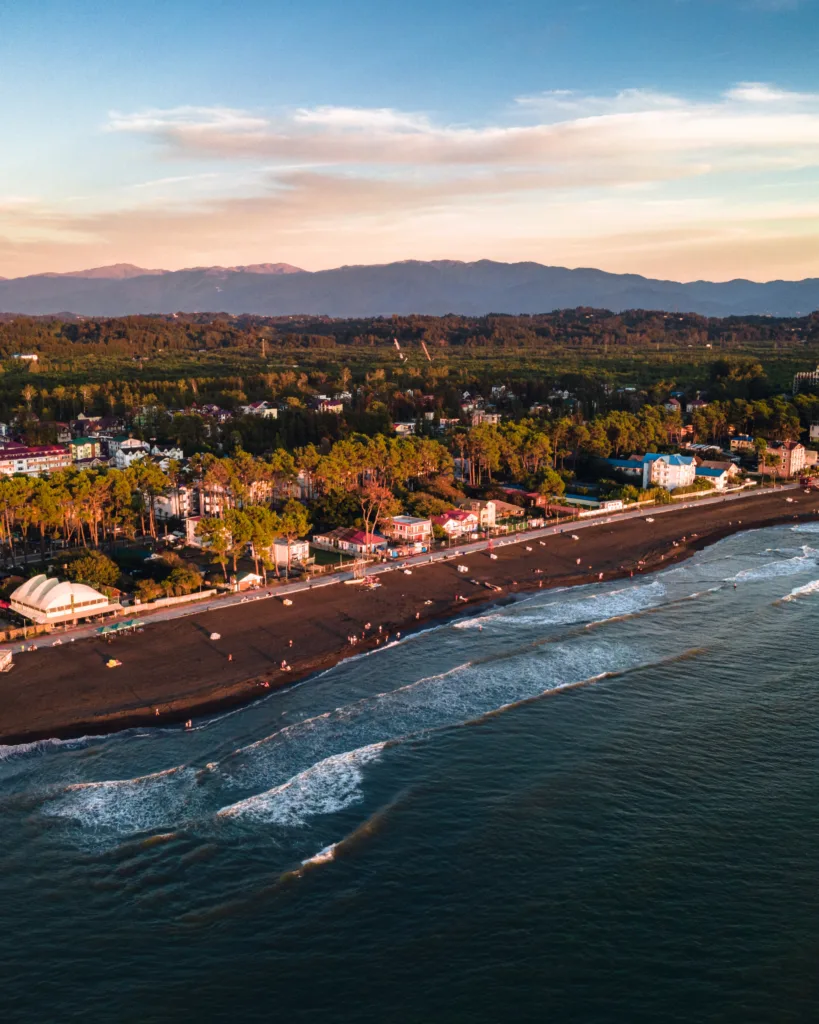 How to Get to Ureki
Ureki is very well connected to all major cities in Georgia via train and marshrutka, so let's see what the best option for you is
Tbilisi to Ureki
Ureki is connected to Tbilisi via train up to 4 times per day, all leaving from Tbilisi's Central Railway Station. You can buy tickets here.
Of those trains, 3 of them take 4 hours and 25 minutes to reach Ureki, costing 35 GEL for second-class tickets. These trains leave at 8:00, 10:25, and 17:05.
The remaining train takes 6 hours and 25 minutes, costs 10 GEL, and leaves at 8:50.
Another popular option to get to Ureki from Tbilisi is to get the overnight bus from Tbilisi Ortachala Bus Station that leaves at 1:00 am and reaches the Black Sea village at 6:20 am. The ride costs 12 euros if you get it through this website, I wouldn't know where to get the ticket in person.
Kutaisi to Ureki
Getting from Kutaisi to Ureki is just as simple, as it also uses one of the same trains that depart from Tbilisi. The only catch is that you can't catch this one from the Kutaisi I station but from the Rioni Railway Station. To get there, get a taxi either through one of the taxi apps or in person.
The train stops at Rioni station at 14:03 and takes 1 hour and 37 minutes to get to the village, costing 8 GEL. Get the ticket here.
A taxi is also an option from Kutaisi, as it only takes 1 hour and a half to get to Ureki. It should cost around 80 GEL, but it might take a bit of negotiation skills.
Batumi to Ureki
This fare is one of the favorites for many tourists, as Batumi is well connected to Ureki and it can make for the perfect relaxing day trip outside of the city.
There are 3 trains per day going to Ureki, leaving from Batumi Central Station at 8:10, 17:15, and 18:20. The ride takes 50 minutes and costs 31 GEL for second-class tickets.
This day trip is especially comfortable as there are also 3 trains going from Ureki to Batumi, perfect for getting back to your hotel if you're staying in the big city.
The trains from Ureki to Batumi leave at 12:26, 14:51, and 21:31, taking also about 50 minutes and costing the same amount as the previous fare for second class.